Being a leader in many aspects of life, I have long since developed the premise that every person demonstrates leadership outside of the workplace. People take the lead in sports
, on

PTA committees

, in

religious groups

, in relationships, and in many other places throughout any given week.

Being a leader, a "life leader," goes way beyond the boundaries of the business organization. It has to do with bringing leadership behaviors to bear in a more holistic and comprehensive way.
I'm talking about a leadership mindset.
It's Puurrrrrsonal
Grooming that leadership mindset requires that the principles we apply to workplace leadership should be demonstrated and often perfected in everyday circumstances. Rather than being on display in a formal leadership role at work, much of our leadership is exercised and honed in those seemingly mundane, yet intrinsically important aspects of life that we categorically designate as "personal." There are qualities and skills we express as "off the clock" leadership traits. We show some of these leadership behaviors in everyday life that we might want to use when we are "on the clock" as leaders ensconced in the demanding environments of the organization.
This brings me to the story of felines and leadership!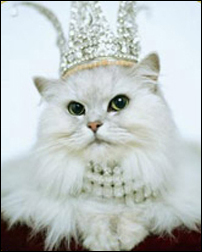 The association of these words "feline' and 'leadership' are uncharacteristic when we think about defining the essentials of leadership qualities .  Yet, interestingly enough, our domestic furry friends have one of the most powerful leadership skills rarely acknowledged as being critical to the effectiveness of leadership;  the art and science of skilful observation.
—————————————————-
Wake Up and Smell The Cat Nip
I curiously stumbled upon my own power of observation quite accidentally one evening while trying unsuccessfully to relax. I was full of energy, sitting one moment to read the neglected best seller only to bound up to make a cup of tea and perform various diversionary tasks unrelated to my wish to relax. (Gosh, I am getting tense just writing about this. MUST relax…)
Anyway…
Trying desperately to balance my urge to bolt with my intention to relax, I looked over at my cat cradled into her chosen place of relaxation. Her all-knowing eyes were clearly focused on each one of my many restless movements.  As she stared at me, in that piercing way that only she could, I ceased all movement and fidgeting. In that moment of focused non-activity, I became more conscious of my distraction and unnecessary tasks.  I realized she, this feline presence in my life, had been quietly observing all of my actions from the moment my frenzy began to take hold. She was the observant one. The one noticing things, gathering information, and staying calm as the one around her was not at rest at all. "Wow!" I thought. "What a powerful leadership trait!"
I then became dumbfounded! "I just got "schooled" in leadership by a cat!"
Applying the power of observation on myself – seeing my actions through the eyes of another – allowed me to become conscious of my poor self-leadership behaviors. After observing my observer, it occurred to me that I could stop my fidgeting, begin to relax, and start to use the power of observation to my benefit. I could act like my cat and begin to better direct myself. I could also alter my daily "on-the clock" and "off-the-clock"  leadership actions to benefit others by using the art and power of feline observation.
Puurrrrrfecting Your Leadership
In organizations, as potential new leaders emerge on the scene, and while middle leaders grapple with the toils of task management, and seasoned leaders continue to hone their style and effectiveness, I encourage each of those leadership levels to consider including the art of observation into their leadership skill set.
Do this because leadership decisions are based on both useful knowledge and applied information.
Denis Diderot quoted the practice succinctly;
"There are three principal means of acquiring knowledge. . . observation of nature, reflection, and experimentation. Observation collects facts; reflection combines them; experimentation verifies the result of that combination."
The art and power of observation – of acquiring knowledge – allows the leader to fully access data and assess all the multiple dimensions at play within any given situation. Keen observation, like that of our feline friends, allows the astute leader to see the nuances once overlooked by the busy manager. One can begin to discern both the subtle and overt pieces of information that can help with better communication, execution, and results.
The power of observation gives leaders the ability to:
Understand the dynamics of working relationships
Foresee the implication of workplace culture
Tests theories based on the collected intelligence
Astute observation improves our ability to make decisions with knowledge based on contextual data expanding our ability to lead holistically and effectively.
Sure, observation takes time. And some would say that time could be better spent elsewhere; perhaps moving ahead and just doing.
However, if we were to trace the cause of ineffectual leadership decisions, we could probably deduce that poor observation techniques and weak reflection disciplines have something to do with it.
What are the stumbling blocks before you that impede your ability to thoughtfully observe? What is the associated cost of non-observational leadership?  How can you hone new sets of behaviors that include "observational best practices" in your life? What are some ways that you can include new observational approaches to help you make better decisions at your work and home? I would love to hear your thoughts!
Add to: Facebook | Digg | Del.icio.us | Stumbleupon | Reddit | Blinklist | Twitter | Technorati | Yahoo Buzz | Newsvine
Email to a friend
————————————-
Trish Kyle is OD and Leadership strategist at By Design Leadership and Practice Leader at CFN
She can be reached at tkyle@bydesignleadership.com
Image Sources: thecathouse.ca, prweb.com, lawsagna.typepad.com
Related articles by Zemanta
Filed under: Coaching Corner, Future Leadership Issues, Leadership Lessons Learned, Leading & Developing Other Leaders, Organizational Health, Practical Steps to Influence, Professional Development, Team Building Leadership | Tagged: emotional intelligence, executive coaching, executive development, Leadership Development, leadership skills, Management, Self-development | Leave a comment »